3D Intensity Profile
Measurement of intensity profile in 3D space
editing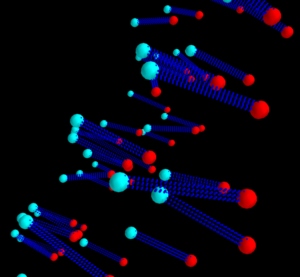 Description
Input: A text file and an active 3D image stack
Output: Values in results table.
Though intensity profile function is one of very popular function in ImageJ, tools for measuring intensity profile in 3D space is hardly found. This script loads a text file containing pairs of 3D coordinates and measures intensity profile between those two points.
The image at the top of this page is a schematic view of how 3D profile is sampled. Spheres are the two ends of sampling interval, and small spheres are the sampled points.
Dependency
ImageJ
Apache Commons Math version 3.0 or later (preinstalled in Fiji)
Installation
Download K_3Dprofile.js and run the script in ImageJ or in Fiji.
Usages
Prepare a tab-delimited data text file with a pair of 3D coordinates per line (6 numbers per line). Run the script, and in dialog window choose the file, then 3D intensity profile in the top-image window will be calculated and shown in the Results table.
Repository